Field Hockey is a team sport played on both grass and turf fields. There are 11 players on the field at one time. Field hockey at BHS is played in the Fall. There are two teams for this sport, varsity and junior varsity.
The philosophy of varsity is competitive where every player has to earn her spot on the field through hard work, dedication, and positive attitude. JV's philosophy is quality playing time (not equal) where every player will play on the field during the games.
The field hockey season typically begins in the middle of August and goes to the end of October.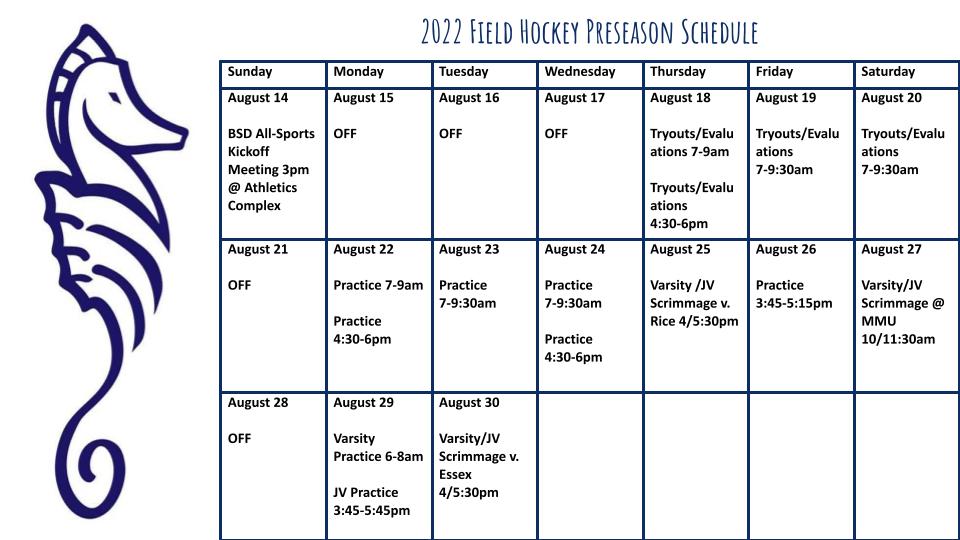 Field Hockey News
Wednesday, September 1, 2021

BURLINGTON Coach: Allyson Archacki (14th season) Last season: 3-7; lost in Bellows Falls in Division I quarterfinals Key returnees: Ava Kahl, junior, forward; Ella Ambroggio, senior, defense; Paige Moody, senior, forward; Maria Worden, junior, midfield Key newcomers: Hawa Awayle, sophomore, defense Outlook: Despite having a number of upperclassmen, the Seahorses are young in their overall playing time. Archacki told the team that the coaches want […]

Wednesday, June 12, 2019

September 8th 3:30-5:30 (Please bring running shoes, cleats, stick, mouthguard, goggles, shin guards, & water bottle)
Varsity Field Hockey Team
Player Name
No.
Position
Grad Year
1
-
Leighton Guyette
2
-
Dahlia Rubin
5
-
*Captain
Lola Rubin
6
-
Julia Keeton
7
-
Paige Moody
8
-
*Captain
Maria Worden
9
-
Ava Kahl
10
-
Olivia Sullivan
11
-
Ella Lipkin
12
-
Ella Ambroggio
14
-
Meredith Jackson
15
-
Meredith Jackson
16
-
Hawa Awayle
17
-
Gaby Schulman
18
-
Kelemua Summa
19
-
Elise Holway
96
-
-
Sasha Whithouse
97
-
-
Player Name
No.
Position
Grad Year
3
-
2024
5
-
2024
6
-
2024
8
-
2023
*Captain
9
-
2023
*Captain
11
-
2023
13
-
2023
15
-
2024
17
-
2024
18
-
2021
*Captain
24
-
2024
97
-
2023
98
-
2024