The Seahorse Mascot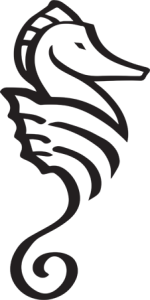 Why the Seahorses? The question about why our mascot is the "Seahorse" is frequently posed. The story goes that fossils of seahorses were found when the site of the former Burlington High School — now the Edmunds Elementary & Middle School campus — was excavated in the late 1800s. There is belief that the fossils date as far back as 12,000 years, when glaciers began to melt in the region, and what is now Lake Champlain was saltwater. According to the Lake Champlain Committee: "As the ice began to melt, the slowly retreating glaciers to the north limited the flow of the melt water forcing drainage to the south through the present day Hudson River. Debris dams forced the water to pool in a huge lake – Lake Vermont. At its height, Lake Vermont had a surface elevation around 500 feet higher than Lake Champlain's current level! When the glacier receded north of the St. Lawrence Valley, the landmass it had covered was below sea level as a result of the huge weight of the ice. Ocean waters flowed in from the Atlantic forming the Champlain Sea. Saltwater animals such as the famous Charlotte whale frolicked in the region at that time. Subsequent rebounding of the land raised the lake elevation above sea level. Gradually, saltwater flushed out and was replaced by fresh water from tributaries." Burlington High School is proud to have the unique distinction of having the "Seahorse" as our school mascot!
Co-Curricular Purposes & Objectives
Our purposes of the BSD Athletics Department are:
To meet the needs of the students who have an interest in athletics, activities, and recreation.
To foster a spirit which lends vitality to school life and often makes the education process more effective.
To provide wholesome activities of recreational interest for the entire community.
Our objectives of the BSD Athletics Department are:
To provide interscholastic athletics experience for a maximum number of students.
To emphasize that putting forth maximum effort to win is more important than winning by demanding it and rewarding it.
To acknowledge that the real value of sport to the student is in the enjoyment derived from the activity itself and from the associations developed among coaches and players in practices, as well as in games.
To encourage fellowship, leadership and cooperation in a competitive atmosphere.
To inspire a voluntary commitment to excellence in study, work, and play.